September 2005 Activity Report

The Committee presented to the Province of Prince Edward Island the proposal, Retention, Recruitment and Facilitation of Safe Work Environment Through Unified Vehicles of Knowledge. This document reflects the mission statement and goals of CINPEI for a safe workplace that highlights injury prevention for safe work environments for health care workers through safe patient handling with no manual lifting. Please read our proposal under the position tab.

2005 Activity ReportThis year continues with communication and discussion with bureaucratic and political stakeholders about CINPEI Injury Prevention Strategy. President Wendy McQuaid and Vice President Corinne Hardy-Adams were invited by Bill Chadore Executive Director Canadian Labour Congress to participate in the National Day of Mourning held at Vincent Massey Park, Ottawa Ontario, 28 April 2005. A memorial ceremony was held for those workers who suffered injury, disability and death as a result of workplace conditions. CINPEI representatives laid a wreath in honour and memory of nurses. Wendy McQuaid, President met with Prime Minister Paul Martin to discuss the state of health care and CINPEI Injury Prevention Strategy. Hon. Paul Martin gave resounding support to our health care initiative and stressed the importance of this work. A History of Nursing showcasing the development of nursing practice and profession opened at the Museum of Civilization, Ottawa Ontario in June. Wendy McQuaid attended this opening and met with many foreign nurses. Discussed was the importance of injury prevention also retention and recruitment of nurses for a viable health care delivery system.

June 2005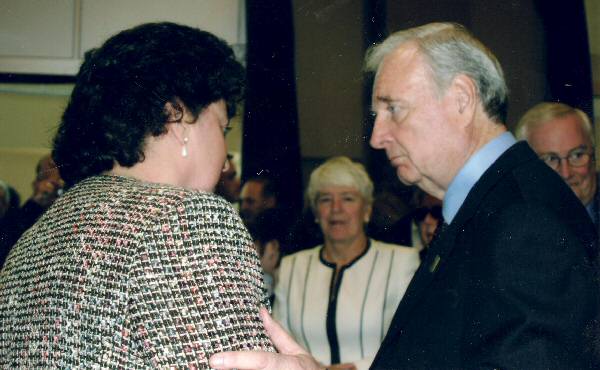 Committee for Injured Nurses President Wendy McQuaid meets with Prime Minister Paul Martin to discuss the Injury Prevention Strategy, a proposal for significant injury reduction among nurses. The urgent need for amending health care through development of safe working conditions for nurses was realized not only for health of nurses and their patients but for retention and recruitment of nurses. Wendy McQuaid acknowledges the support of Prime Minister Paul Martin has given to our Committee for Injured Nurses.

April 2005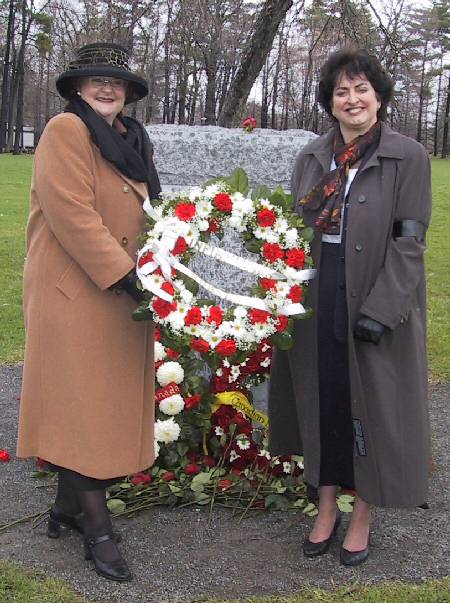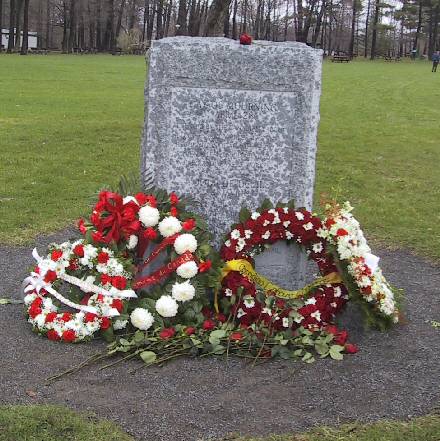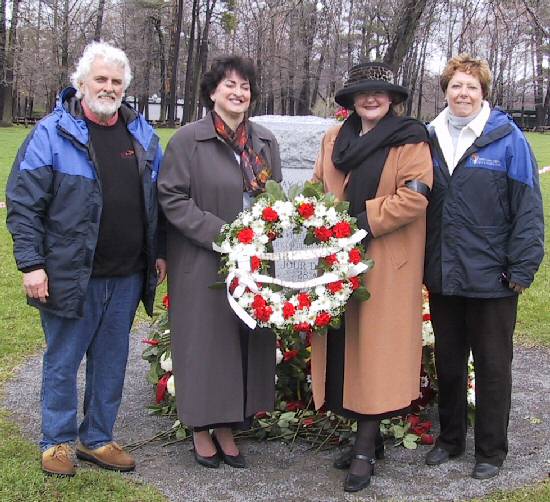 Committee for Injured Nurses President Wendy McQuaid and Vice President Corinne Hardy-Adams attended the Canadian Labour Congress National Day of Mourning at Vincent Massey Park, Ottawa Ontario, 28 April 2005. In honour and memory of all nurses, who suffered injury, disability and death as a result of their workplace environment, a wreath was laid in their remembrance. Laying the wreath L-R are Bill Chadore Executive Director Canadian Labour Congress, Wendy McQuaid, Corinne Hardy-Adams and Susan Fraser Coordinator National Day of Mourning Canadian Labour Congress. CINPEI representatives took this time to connect with other stakeholders from across the country, from bureaucrats to front line workers to discuss injury prevention and workplace safety.

2004 Activity Report

Great headway was made to establish CINPEI mandate and agenda in other provinces and territories. Interest in adopting provincial and territorial chapters of the Committee for Injured Nurses was overwhelming with a total of 7 provinces requesting our education programs and workplace modules be instituted in health care facilities. Development of the committee from provincial to national status began and continues with development of provincial / territorial chapter affiliation and membership. Communication was initiated with many injury prevention stakeholders. Participation in think tank seminars and round table discussions addressing injury prevention and workplace safety was undertaken. Correspondence and discussion with bureaucratic and political stakeholders continues to expand. CINPEI Injury Prevention Strategy was completed and submitted to the Province of Prince Edward Island as well as for peer and stakeholder review. The initiative has received overwhelming acclamation for its comprehensive education programs and workplace modules.

Fall 2003 Activity Report

The fall and winter of 2003 was a time of expansion and diversity for CINPEI. The committee conducted a needs assessment for "hands on" nurses and the preliminary findings were released. Work continues on this research for publication. Permanent members of the board of directors was determined. Numerous specialized contributors, new members at large and volunteers have been welcomed into the committee. Connections with other provinces and related organizations have been made. Communication with the Canadian Nurses Association was made and continued correspondance is enjoyed.